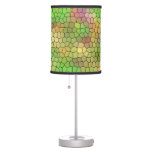 Fun Green Stained Glass Mosaic Pattern Desk Lamp
by HappyGabby
Price: $48.45
A cute and fun green stained glass mosaic pattern table lamp for your home!
You can also get two and put them in your bedroom, one on each side of your bed!
This cool design is also available on the tripod lamp and pendant lamp if you prefer...
Will also make a cool and creative...